What's the Point of Attachment?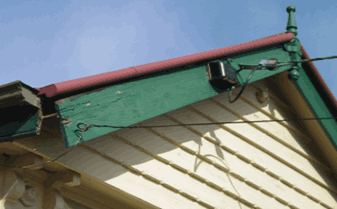 This is not some esoterically mystic message… I don't touch that stuff anymore.
But seriously, I've been running more lately as the City to Surf is coming up… and besides training for that I'm training for old age which comes up every day…
So I run to keep fit and relax but picture this… I set off… I've got the head phones in and my boxer dog on a lead around my waist… I'm running along the streets in a Zen moment and then it starts.
I look up at the houses on both sides and I have all these dodgy 'points of attachment' jumping out at me like my worst nightmare… it's like I'm in this dark forest and these dodgy points of attachment are jumping out at me… attacking me.
Okay, it's not really that bad and sorry if some of you old hippies just had a bad flash back to an acid trip of yesteryear (of course I wouldn't know).
In electricians' talk, the Point of Attachment or PoA is the point where the wires from the street attach to a building and now with the windy season approaching it's more serious.
That's when these connections fail and worse still… if the wires come adrift, you could end up with live wires on the ground and of course no power just when you're cooking dinner or sitting down to watch your favourite TV show.
Ausgrid used to maintain these 20 years ago but now it's the homeowners' responsibility.
Quite often they're attached to wood… sometimes via metal brackets… and coats of paint are often hiding a looming failure.
So please save me from my nightmare… just take 3 minutes and have a look.
If you're not sure that yours is secure and safe, send me a pic and I'll give you some free advice and suggestions.
And it doesn't stop with old ones… even the other Sunday I saw new building works going on at two separate sites and I could see that the builders' electricians were setting themselves up for defects.
The brackets they'd installed ready for connection were not high enough for the wires to cross the roadway to clear removalists' vans for example… so being the busy body that I am, I took note of the builders' numbers and rang them on the Monday because there was still time to correct them before the building progressed.
I'm happy to report that both points of attachment are being corrected and one builder is giving me an opportunity to price a job. On the other site, the electrician and I are in good communications…. nice, now we can all get some sleep.
I'm off to improve my City to Surf time…at least I'm safe in Rose Bay and Bondi, most of the connections are underground!
Cheers,
David
PS. Go take a look at your point of attachment… the risk isn't worth it… and don't get me started on old timber panels supporting electricity meters near front doors