Farewell Daylight Savings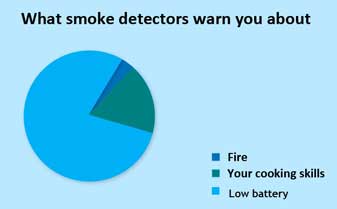 G'day everyone…I'm sure by now you have all put your clocks back one hour, let's face it thankfully the most important ones like the smart phones are done automatically, but don't forget the DVD player, the microwave, the oven, the car…..and any timeclocks around the place…etc..This task always reminds me of the old saying when Joh Bjelke-Petersen was the Premier of Queensland (a State which still doesn't participate in day light savings because as the story goes they thought it would annoy the cows and fade their curtains.. but that's another story)…. …So you're on a plane and as you were preparing to land at Brisbane Airport you'd be reminded to "put your watches back one hour and twenty years…." but enough of that, this is serious stuff.
The above graph is a bit of fun (I think), we have to remember that fires are serious but they occur way less than our negligence to change batteries and our proclivity to burn food so that's a good thing!
I'm really here to remind everyone that now is the time to replace the 9volt batteries in your smoke alarms, it's not as easy as it used to be because some have sealed 10 year batteries and some of you in unit blocks may have a panel system with no batteries. We should also replace the batteries in all of our remote controls and the like, they get forgotten, the batteries corrode and it's expensive and no fun having to replace, I've seen it happen many times. If you're not sure, text me a photo to 0418 674 170 and I'll advise you, you're welcome to ring me on that number too…
It's also a good idea to write the date on the new batteries before you put them in just like we do here at David Jones – The Electrician with all hidden components for good record keeping and warranty purposes.
If there's anything else electrical that we can help you with please contact usand don't forget our laptop competition running until the 21st of May….see the photo below.