Back from Volunteer Electrical Work in Thailand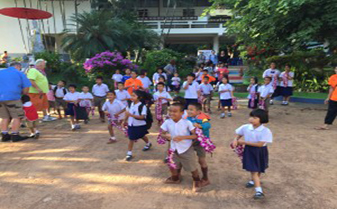 What an amazing experience Thailand was. Josh my electrician and I flew into Bangkok at 2am Sunday morning then left for Kanchanaburi the next day at noon. The orphanage tuk tuk bus picked us up at 7am to go start work. There were 35 of us this year. We met the kids, then they left for school in the same tuk tuk. We did a walk around and looked at what had to be done, there was Brett another electrician from Melbourne plus Shelley a bookkeeper and travel agent from Melbourne and Michael, a multiple IGA Store owner from Sydney, those two were our assistants (TA's).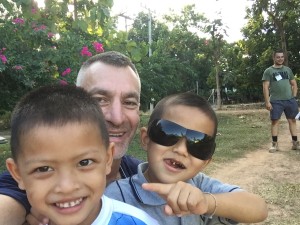 Installing ceiling fans and fluoros in the girls dorm was our first job. It was a false ceiling so we needed timber to support the fans or so we thought, but when we started cutting sheets of ply to make 4B2's we discovered it was full of terminates. Required a rethink. Then discovered the fans didn't come with hooks to attach to anything so we had to make rods up by cutting steel mesh into lengths…and so on it went….it was very much a situation of tackle one problem at a time and tackle them we did…but I have to say it was incredibly rewarding and fun, the other volunteers were great and we got to spend some morning and afternoon time with the kids and I got to be one of the boys again instead of a boss….
Our two carpenters, both called Andy got taken out early in the piece, they got cut up badly when a 9" angle grinder blade disintegrated and went flying off in all directions. They have both now recovered after a few days in hospital.
John was lopping trees that were dangerously over grown and the girls did a great job of painting the rooms and others assembled new beds and furniture.
It was a buzz on the last day to give out the colouring-in books and pencils that I brought from Australia, I also bought some fake kangaroo and koala purses, Aussie flags and boomerangs. Hands Across the Water does a great job and so do all the staff at the orphanage especially Prateep that runs it, she is known as the Mother Theresa of Thailand.
So now it's back to the Sydney grindstone just in time for the Christmas madness, get in touch if you need anything done, you never know I might just jump back on the tools.
Cheers,
David